Express Kitchen Cabinet Painting
Give yourself a modern looking kitchen without replacing your cabinets
Elevating painting services across Massachusetts since 2005
Breathe New Life Into Your Kitchen Cabinets
The kitchen is arguably one of the most important rooms in your home. It's where you start and then wind down your day, so it's important for it to look right.
But time does fly, and those dark wooden kitchen cabinets have long outlived the trends. With the modern style, we're talking about all-white and dark gray kitchen cabinets with a touch of luxury.
We all know the high cost of a kitchen renovation, but you don't have to spend a fortune to get the kitchen you've been dreaming of. If you're tired of your outdated kitchen cabinets, we have a solution to refresh them fast and at a fraction of the cost. Repainting your kitchen cabinets can be the smartest decision you make this year.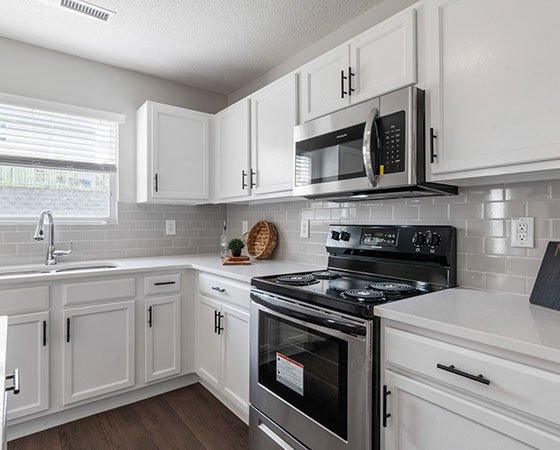 Have Your Kitchen Back In As Little As Two Weeks
If you've considered working with a painter for your kitchen cabinets before, we guess you gave up on that idea fast. The ridiculous time frame you received wouldn't cut it.
With most painters, painting a regular kitchen takes around 3 weeks. Add to that an extra month before they can actually take on your project…
Now you're looking at almost two months of frustration just to have your cabinets done.
At Sherwood Painting, we're dedicated to providing a hassle-free painting experience. Between the time you call us and the day we deliver your freshly painted cabinets to you, you're looking at 14 days max!
Fresh Kitchen Cabinets In 3 Simple Steps
Our unique process saves you time and keeps you informed and in charge of everything, from start to finish. We guarantee a spotless kitchen cabinet paint job you'll love for years to come, and an unmatched customer experience. Here's how it works: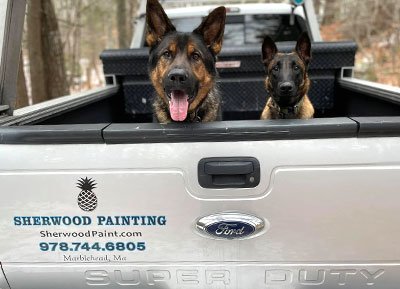 Step 1. Get Your Quote Within A Day
Give us a call or fill out our
contact form
to tell us about your project. We'll get back to you within a day to discuss everything in depth, offer you an estimate, and schedule an in-home visit.
Step 2. We Work Our Magic
Once you've decided on the colors, we'll remove the kitchen cabinet doors and prepare everything for painting. Meanwhile, we'll keep you updated on the status of your project. When the painting is done, we come in to put everything back together.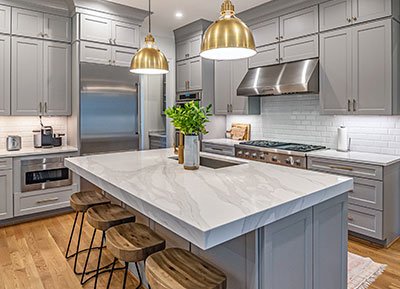 Step 3. Enjoy Your New Kitchen
Now that your kitchen looks like new, you can feel confident having friends over for a weeknight dinner or a weekend party. Start every day with a smile on your face, proud of your trendy cabinets.
Kitchen Cabinet Painting Prices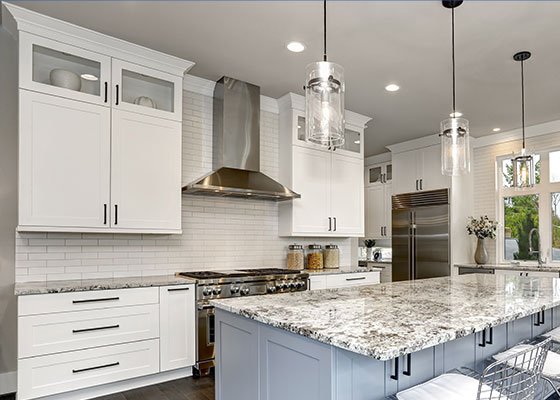 The main factor that influences the price of repainting your kitchen cabinets is the number of openings you have. It matters how big your kitchen is, how many cabinets you have, and many drawers you have. But no matter how big or how small your project is, we always use high-end materials to make sure your cabinets look like new.
The prices below include painting both sides of the cabinet doors and drawer fronts, the exterior of cabinets, the crown molding, and the base boarding. The price also includes installing new hardware (if applicable) into the existing holes.
Cabinet Painting For A Small Kitchen*
Cabinet Painting For An Average Kitchen*
Cabinet Painting For A Large Kitchen*
*Prices are averages and do not include painting the interior of the cabinets and any specialty coatings. They also do not include the cost of installing new hardware if it requires drilling new holes. You'll receive an exact quote for your unique kitchen cabinet painting after the in-home consultation.
The high-level craftsmanship and personalized customer experience we deliver are what keeps our customers happy and telling their friends about us. We can't wait to help you with your painting project!
Top notch!
If you are looking to be taken care, search no more.
From start to finish you'll feel heard and respected.
Dan and team came in and got the job done.
Dan did a great job of explaining their process upfront.
His team was professional, hardworking and friendly.
The house looks great!
I can't say enough about the quality of the work.
I have used them several times and will do so again.
Give New Life To Your Kitchen Without The Cost Of A Renovation
We're here to give your home the professional paint job it deserves.