How Often To Paint A House Exterior To Keep Up Its Curb Appeal
Everyone In The Greater North Shore Area, Metro Boston, and Marblehead, Massachusetts Wants To Keep Their Home Exterior Looking Amazing
We think it's great that you want to keep up the look of your house exterior! One of the reasons we paint homes is to keep our area looking amazing. In this post, you'll find out how often people tend to need to paint their brick, cement fiberboard, aluminum, stucco, and wood-sided homes. You'll also discover how to tell when it's time to repaint and what changes the lifespan.
"Since we had our house exterior painted? I don't know, why?" asks Ashley.
Dan sighs. "It'd be nice to know. I was wondering because we're going to have to repaint it at some point. We should probably look up how often to paint a house exterior and exterior house painting costs."
Ashley nods. "That's a good idea, Dan. We can get ahead of it, save up some money, and get scheduled when we want to. Wow, this might make it much easier than last time. Here, let's go ahead and look it up on Google!"
Here's what the couple finds during their search:
Signs A House Exterior Needs Fresh Paint
Sherwood Painting Team scraping the old gray paint off to prep before painting
Wear and tear. All paint will eventually wear out. You may see cracking, peeling, and bubbling. Wear and tear of this nature often happen because of an improper job, dry rot, mold, or time and nature have begun to work. When you see these, fix them immediately. The longer the problems sit there, the more damage there is, and the harder and more expensive they are to fix.
Fading color. The sun and weather will cause your paint to fade over time. The vibrant color will be gone and your home will look worn down. Lighter colors don't normally fade as quickly. If you have a darker exterior color be on the lookout for faster fading.
Cracking caulk. Over time caulk becomes brittle, losing its elasticity. This causes it to crack and break, which can make your house look like it's got dandruff. Give your house its Selsun Blue with a new paint job! Water can also get between the cracks and cause moisture damage.
Gaps or shrinkage. Boards tend to shrink and create gaps in the siding. This can be due to dry rot, meaning moisture is getting in the wood. It's best to get a professional to assess the damage before anyone tries to fix it.
How Often To Paint A House Exterior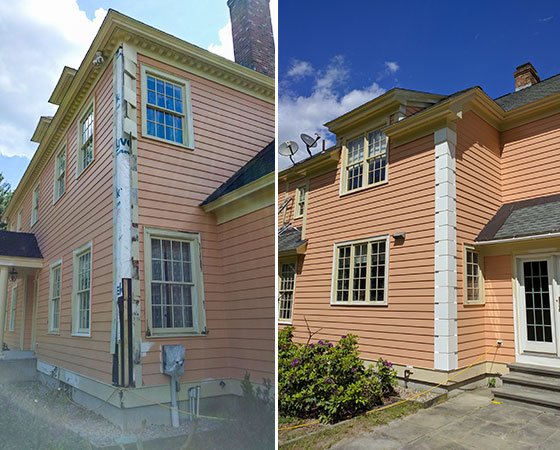 Most people paint their house exterior when it starts looking bad. Depending on the type of siding, it can be anywhere from 3 to 20 years. On average, most house exteriors need painting every 5 years. Besides siding, it also depends on the paint, location, climate, and weather.
Brick siding needs painting about every 15 to 20 years depending on upkeep and location. Unpainted brick houses only need occasional cleaning
Cement fiberboard siding can last 10-15 years before needing another paint job
Aluminum siding paint can last about 5 years
Stucco siding paint is typically good for around 5 to 6 years
Wood siding tends to last between 3 to 7 years, 4 years if stained
What Changes Your Paint's Lifespan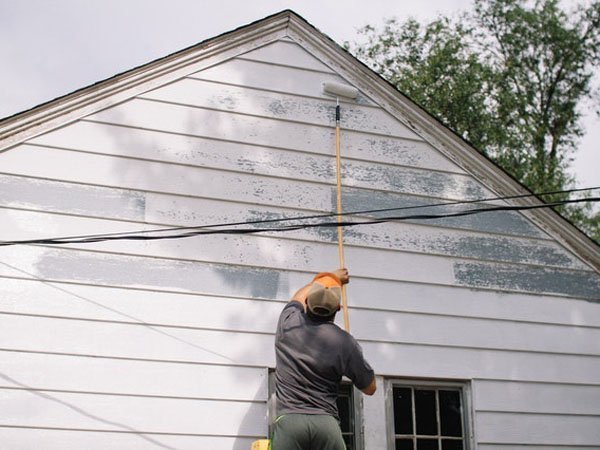 Paint. It's low vs high-quality here. Lower quality paints are cheaper upfront but they don't tend to look as good or last as long as higher-quality ones. This means you'll need to repaint your home exterior sooner.
Location. Beach vs inland. The paint on beach houses tends to wear down faster. This is because of the salty air and more intense sun.
Climate. Wet vs dry, hot vs cold, and other climate factors change the lifespan of your exterior paint. It'll either help it last longer or wear it out more quickly.
Weather. If your area is nice and sunny most of the time, your paint should do better than if it' stormier. Storms tend to cause damage more quickly than the sun.
You May Also Like To Know
"Now we know how often to paint our house exterior and what causes the lifespan to change," points out Dan. Ashley nods. "Maybe we should poke around this blog some more and see what else we can find out."